By drawing cards through Divination, players can get Heroes, Equipment and Soulstones. What's more, high VIP level players can use Mystic Divination for better chances to get the selected Heroes and Soulstones which players can use to increase the quality level of the Heroes.
Players can select one out of three options.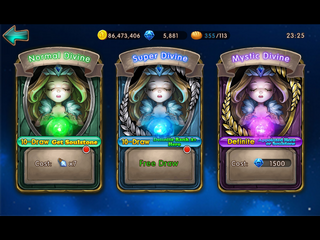 Common Divination: This uses Gold or Divining Crystal (Priority). Players can select Draw*1 or Draw*10. When players select Draw*10, the Gold used will be discounted 10% off. One of every 10 divinations is guaranteed to be Heroes or Soulstones.
Super Divination: Players can have one free try every 24 hours. Additional cards cost diamonds. Players can select Draw*1 or Draw*10. When they select Draw*10, the Diamonds used will be discounted by 10%. Like with the normal divination, one of every 10 draws guarantees a Hero card (if the player already has that hero, it turns into 8 (or more) soulstones).
Mystic Divination: This also uses Diamonds, and is only available for players with VIP level 8 or higher. Players can get the selected Heroes or Soulstones from the Divination Room at random.
Community content is available under
CC-BY-SA
unless otherwise noted.