Recharging In-game Account
Edit
Diamonds are the premium Category:Currency and are the only ones which are purchased using real life money. That process is called Recharge.
In exchange for a given payment of money, you will be given a number of Diamonds to spend on in-game enhancements. The amount of Diamonds you receive will vary based on the amount of money you spend.
Diamonds received from Recharging are divided into two categories. The first is the number of Diamonds which count toward your VIP Level. The second is a bonus amount. While the number of "VIP" Diamonds purchased per dollar remains constant, the bonus Diamonds scales up as you spend more money.
Recharging Value
Edit
The following table shows the number of Diamonds received in exchange for a given amount of money. I've split the total Diamonds purchased into those which count toward the VIP programand the bonus amount which scales based on the cost.
Please note that the currency is US Dollars ($) and the amounts are current as of the game on this date (22 May, 2016), but either may be subject to change.
Diamonds for Recharging

| Spend | VIP Diam. | Bonus Diam. |
| --- | --- | --- |
| 4.99 | 500 | 30 |
| 9.99 | 1000 | 120 |
| 14.99 | 1500 | 150 |
| 29.99 | 3000 | 500 |
| 49.99 | 5000 | 1000 |
| 99.99 | 10000 | 2500 |
| **6.99 | 700 | 6000 |
Recharge Graph
Edit
Graphically, with the exception of the monthly subscription, the value of recharging (when one combines the VIP and Bonus Diamonds looks like this: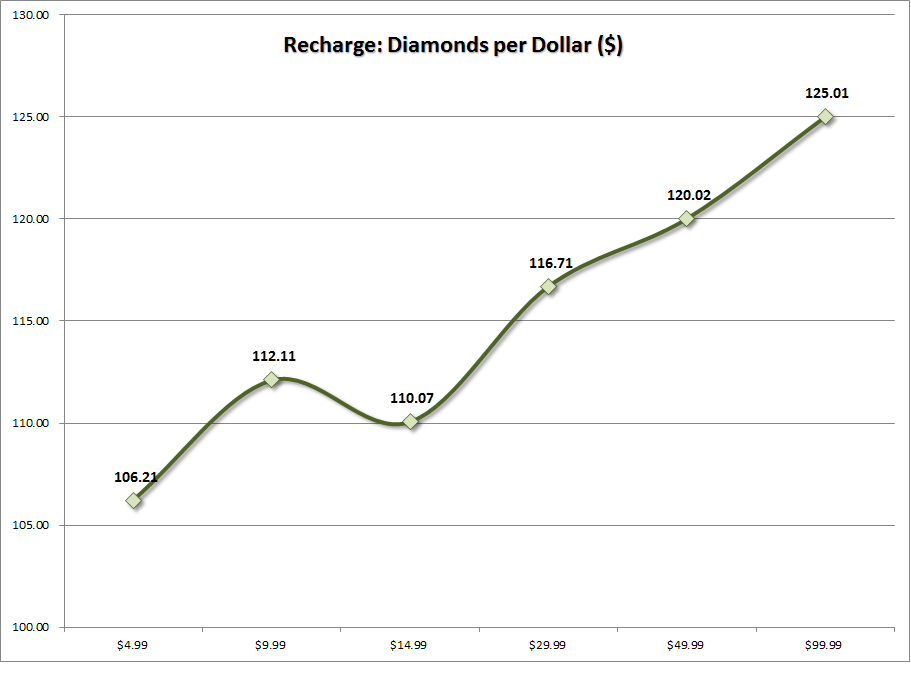 Important:

This graph clearly shows that the $14.99 tier of Recharge is a bad value. Avoid using that amount whenever possible!
For reference, the subscription option provides 958.51 gems / dollar. Almost 9 times the next best value.
Additional Benefits
Edit
Nearly every day there is also one (or more) Special Events which will reward additional Diamonds for Recharging. Bonuses of 3x, 4x, and even 5x Diamonds are not uncommon.

There is always a "Daily First" Event which will provide a reward for your first Recharge each day

There is an extra tab on the Check-in window which will reward a few items each day that you use Recharge
This is the only way to earn your VIP Levels
Community content is available under
CC-BY-SA
unless otherwise noted.