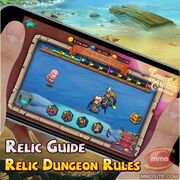 The Dungeon currently has 12 chapters. The higher the level the chapter the better the reward is.
Upon completing a chapter, players are reward with piece(s).
First four chapter offer the Fire's Fairy pieces, use this set until a better set such as Flaming Dragon is available.
Dungeon Rules
Edit
1. Enter ' 'Function and tap on 'Dungeon' to start the exploration. Tap 'challenge' to start the fight.
2. Potential loot for the current dungeon level is exhibited at the bottom of the dungeon screen.
3. Player might encounter 2 to 3 enemies in any given dungeon level. Heroes and angels that won a battle need rest. Player must send another team on the battle field to defeat the remaining enemies. Should you fail in a battle, cool down time is raised for 5 min. Challenge will be not available when CD time reaches 20min.
4. There are extra chests when conquering Level 3, 6, 10 in each chapter.
5. When you defeated all enemies in a level, you will get a chance to open the chest and turn over cards for rewards.
6. dungeon is a one-trip tour that players cannot return to earlier stages in a chapter; however blitz will be unlocked after you complete a whole chapter.
Blitz in dungeon
Edit
1. Like in other explorations, blitz is also available in dungeon once you conquered the whole chapter. You can choose the times you blitz and extra cards to turn over on levels before hand.
2. Results for loot obtained and change of stamina will be displayed after blitz.
Community content is available under
CC-BY-SA
unless otherwise noted.