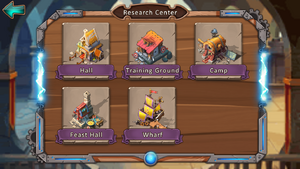 The Research Center is a Guild building that becomes available when the Guild reaches level 15. It allows members to donate gold or diamonds each day to improve the other buildings on the guild island. Each player can donate 40,000 gold a maximum of 5 times per day, and 250 diamonds a maximum of 3 times per day. Each donation gives the building 3 exp toward its next level and rewards the player with 300 Guild Devotion.
Building Upgrades
Edit
Each of the Guild buildings unlocks at a different level and can be upgraded in two different ways:
Community content is available under
CC-BY-SA
unless otherwise noted.