Training allows players to quickly level up their Angels and Heroes. The training system includes both Training Slots for continuous experience increases and Experience Potions for instant boosts.
Training System
Edit
Auto Training and Manual Training are available in League of Angels: Fire Raiders . Auto Training is accomplished by using the Training Slots available on the Train screen. While a Hero or Angel is in a Training slot, they will gain experience continuously. This training mode continues to work while players are logged out. Returning to the Train screen will show how much progress the characters in training have made.
Players begin with three Training Slots unlocked at the White or Common level. Players can use Diamonds to unlock additional Training Slots or upgrade existing Training Slots. Unlocking a new slot costs 500 Diamonds. Upgrading an existing slot starts at a cost of 1000 Diamonds and increases in price each time that slot is upgraded. The upgrades follow the same color system as hero ranking.
Manual Training allows the player to place an Angel or Hero in the Training Slot and then boost their experience instantly using Experience Potions. The Player first selects a potion from the right side of the screen and then clicks on a training Angel or Hero to increase Exp. Players can keep pressing on the Angel or Hero's image to continue increasing Exp.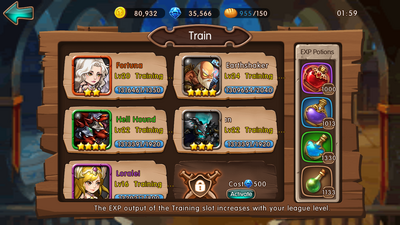 About Training Slots
Edit
Common Training Slot: This only uses 88 Diamonds to unlock a Common Training Slot. The base rate for this slot is Exp*900 each hour and Exp*21600 every day.
Uncommon Training Slot: Angels or Heroes can receive Exp*180 more every hour and Exp*4320 more in a day. Players can use 20 Diamonds to buy 10 Medium Exp Potions from Mysterious Merchant. Each Medium Exp Potion brings Exp*300. If players use a Uncommon Training Slot, they can save 29 Diamonds a day.
Players don't need to exchange Trial Tokens and Arena Tokens for Exp Potions. Angels or Heroes can receive Exp*25920 a day from the Uncommon Training Slot.
How To Use Training Slots
Edit
Click the image of an idle Training Slot. Select a Hero  from the pop-out interface to start the training.
The system will count Exp for the Hero in the Training Slot once every 5 minutes. When the Hero has enough Exp to upgrade, the system will automatically upgrade the Hero .
Players can select 4 speedup items from the system. Click on an item and then click on the Hero's image to use it.
EXP Potions
Edit
There are 4 different Experience Point (EXP or XP) potions currently in the game.
| Size | Color | XP per | Cost |
| --- | --- | --- | --- |
| Small | | +60 EXP | 300 Gold for 1 |
| Medium | | +300 EXP | 1500 Gold for 1 |
| Large | | +1500 EXP | 15 Diamonds for 1 |
| Ultimate | | +7500 EXP | 75 Diamonds for 1 |
Upgrading Potions
Edit
Note that you can also combine the smaller potions into the bigger ones. For example, 5 Small (green) potions can be combined into 1 Medium (blue) potion. You do this from the "Misc" tab in your Inventory. Tap on the potion, tap on Details, then tap on "Compose" or "Compose All" to upgrade them. The upgrading does NOT cost anything and you do not lose any EXP by doing this. It just makes it so you don't have to use as many individual pots when you're training your heroes / angels.
When combined with the above mention that you can purchase potions, an interesting option comes to mind for those players who have sufficient gold reserves. Since you can purchase a small potion for 300 gold and then upgrade 5 of them to Medium, etc. You can take advantage of this buy spending enough gold to upgrade to an Ultimate XP potion. See the following table for how this would work
So, if your goal was to use 25 Ultimate XP Potions, you could purchase 25 x 125 = 3125 small xp potions for 937,500 Gold and upgrade them through the tiers to get your 25 Ultimate XP potions.
EXP List Per Hero Level
Edit
In this table you can find how many EXP you need to level your hero for each level and how many small xp pots it takes to do that (rounded up). Finally, it shows the total xp from level 5 (and the total number of small XP pots you'd need).
EXP needed to level up your hero
Hero
level
EXP for
levelup
Small XP
Potions
Total EXP
from level 5
Sm XP Pots
from level 5
5
60
1
60
1
6
70
2
130
3
7
80
2
210
4
8
90
2
300
5
9
100
2
400
7
10
120
2
520
9
11
160
3
680
12
12
240
4
920
16
13
360
6
1,280
22
14
480
8
1,760
30
15
640
11
2,400
40
16
800
14
3,200
54
17
900
15
4,100
69
18
1,080
18
5,180
87
19
1,200
20
6,380
107
20
1,350
23
7,730
129
21
1,860
31
9,590
160
22
1,920
32
11,510
192
23
1,980
33
13,490
225
24
2,040
34
15,530
259
25
2,100
35
17,630
294
26
2,160
36
19,790
330
27
2,220
37
22,010
367
28
2,280
38
24,290
405
29
2,340
39
26,630
444
30
2,400
40
29,030
484
31
5,400
90
34,430
574
32
7,200
120
41,630
694
33
9,000
150
50,630
844
34
10,800
180
61,430
1,024
35
12,600
210
74,030
1,234
36
14,400
240
88,430
1,474
37
16,200
270
104,630
1,744
38
18,000
300
122,630
2,044
39
21,600
360
144,230
2,404
40
25,200
420
169,430
2,824
41
28,800
480
198,230
3,304
42
32,400
540
230,630
3,844
43
36,000
600
266,630
4,444
44
40,500
675
307,130
5,119
45
45,000
750
352,130
5,869
46
49,500
825
401,630
6,694
47
54,000
900
455,630
7,594
48
58,500
975
514,130
8,569
49
63,000
1,050
577,130
9,619
50
67,500
1,125
644,630
10,744
51
72,000
1,200
716,630
11,944
52
76,500
1,275
793,130
13,219
53
81,000
1,350
874,130
14,569
54
85,500
1,425
959,630
15,994
55
90,000
1,500
1,049,630
17,494
56
99,000
1,650
1,148,630
19,144
57
108,000
1,800
1,256,630
20,944
58
117,000
1,950
1,373,630
22,894
59
126,000
2,100
1,499,630
24,994
60
135,000
2,250
1,634,630
27,244
61
144,000
2,400
1,778,630
29,644
62
153,000
2,550
1,931,630
32,194
63
162,000
2,700
2,093,630
34,894
64
171,000
2,850
2,264,630
37,744
65
180,000
3,000
2,444,630
40,744
66
189,000
3,150
2,633,630
43,894
67
198,000
3,300
2,831,630
47,194
68
207,000
3,450
3,038,630
50,644
69
216,000
3,600
3,254,630
54,244
70
225,000
3,750
3,479,630
57,994
71
234,000
3,900
3,713,630
61,894
72
252,000
4,200
3,965,630
66,094
73
270,000
4,500
4,235,630
70,594
74
288,000
4,800
4,523,630
75,394
75
306,000
5,100
4,829,630
80,494
76
324,000
5,400
5,153,630
85,894
77
333,000
5,550
5,486,630
91,444
78
342,000
5,700
5,828,630
97,144
79
351,000
5,850
6,179,630
102,994
80
360,000
6,000
6,539,630
108,994
81
370,000
6,167
6,909,630
115,161
82
380,000
6,334
7,289,630
121,494
83
390,000
6,500
7,679,630
127,994
84
400,000
6,667
8,079,630
134,661
85
410,000
6,834
8,489,630
141,494
86
420,000
7,000
8,909,630
148,494
87
440,000
7,334
9,349,630
155,828
88
460,000
7,667
9,809,630
163,494
89
480,000
8,000
10,289,630
171,494
90
500,000
8,334
10,789,630
179,828
91
520,000
8,667
11,309,630
188,494
92
540,000
9,000
11,849,630
197,494
93
560,000
9,334
12,409,630
206,828
94
580,000
9,667
12,989,630
216,494
95
600,000
10,000
13,589,630
226,494